Field Day 2016
Présentation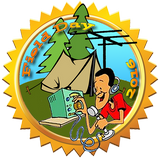 01 - Qu'est ce que le Field Day ? / What is Field Day ? / ¿Que es "Field Day" Día de Campo?
A - FRANÇAIS
: Le Field Day est un contest (concours de radio) dans lequel, les personnes qui activent transmettent depuis une station portable (pas depuis leur QRA). Il s'agit d'un concept développé initialement par les R
adioamateurs Américains de l'ARRL Cliquer ICI.
B - ENGLISH
: The Field Day is a radio contest in which, the activators have to transmit from a portable station (not from their QRA).
This is a concept originally developed by the
Americans Hamradio (ARRL) Click HERE.
C - ESPAÑOL
: El "Field Day" Día de Campo es un concurso de radio en la que, los que activan transmite desde una estación portativa (no de su QRA).
Este es un concepto desarrollado originalmente por el Los
Radioaficionados Americanos del ARRL.
02 - Quel est le But ? / What is the goal ? / ¿Cuál es el objetivo?

A - FRANÇAIS : Le but du Field Day est de créer un concours ou un maximum d'opérateurs (provenant de toutes associations confondues) se retrouvent pour passer un moment convivial le temps d'un weekend (camping, barbecue, partage, hors QRA...).

B - ENGLISH : The goal of 11m Field Day is to create a contest with a maximum of operators (from all radio groups) to meet radio-friends and to spend a good time during a weekend in the Field (camping, barbecue, sharing out ... QRA).

C - ESPAÑOL : El objetivo del 11m Field Day (Día de Campo) es la creación de un concurso, con un máximo de operadores (de todos los grupos de radio) para cumplir con los amigos del radio y pasar un buen momento en un fin de semana (camping, barbacoa, reparto ... QRA).
03 - Mise en place / Setting up / Configuración
A - FRANÇAIS
: Comme évoqué dernièrement :
Cliquer ICI
Pour mémoire nous avons organisé ce même type de concours à l'époque avec
l'EMU - Cliquer ICI
et en toute franchise c'était très divertissant !
Il suffit de réadapter le règlement de l'époque en ajoutant un Comité de validation (incluant une ou deux personnes de chaque groupes de radio participants à l'événement) et ouvrir un newsgroup dédié (communication)).
Nous avons entamé un sondage auprès de plusieurs responsables de groupes en compagnie de Gérard 14SD038 de Tom 14HF001 et de J-C 14SD014 afin d'évaluer si cette idée peut les intéresser.
Vous l'avez compris, nous pensons à la mise en place d'un concours international
ouvert à tous les groupes sans distinctions.
B - ENGLISH
: As mentioned recently:
Click HERE
(article in French).
As a reminder, we organized the same type of contest at the time with the EMU -
Click HERE
and frankly it was very entertaining!
We must readjust the rules, add a Validation Committee (one or two operators of each radio groups attending the event) and open a dedicated newsgroup (to have a good communication)).
We have begun a survey to ask several groups with the help of Gérard 14SD038, Tom 14HF001, J-C 14SD014 to evaluate whether this idea can interest them.
You understood, we believe in the establishment of an international competition
open to all groups without distinction.
C - ESPAÑOL
: Como se ha dicho recientemente:
Click AQUÍ
(artículo en Francés).
Para el registro, hemos organizado este mismo tipo de concurso en el tiempo con la EMU -
Clic AQUI
y francamente fue muy entretenido!
Sólo tenemos que ajustar las reglas, preparar un Comité de Validación (incluyendo una o dos personas de cada uno de los grupos de radio que asistieron al evento) y abrir un grupo de noticias (newsgroup) dedicado (para la comunicación)).
Hemos empezado un estudio con varios amigos de otros grupos con Gérard 14SD038, Tom 14HF001, JC 14SD014 para evaluar si esta idea puede interesarles.
Usted entiende, queremos establecer un concurso internacional
abierto a todos los grupos sin distinción.